Custom Couple Song Lyrics Wall Art
Basic Music Custom

✔ Personalized with your Song + Picture
✔ Tell Your Love Story
✔ Premium Gloss Paper
✔ Portion of Profits Donated                     

Here is a chance for you to get creative with our Custom Wedding/Anniversary/Gift Print.

1. Order
2. Upload Picture or Email Pictures
3. Tell us the name of Your Song at checkout
4. We'll send a proof (within 5-7 business days) before we ship to ensure complete satisfaction
5. Upon approval, we ship the print!

Let us create something unique, awesome, and personalized just for you! Simply send us a message regarding what picture you'd like to use, the song you had in mind, and we'll see if we can create it for you. All requests will be considered!
We print this on quality photo paper, which measures approximately 8.5"x11", and ship it in a heavy-duty envelope to ensure it arrives intact.
Frame NOT included, but framing offered at an additional price of $30 (plus $12 shipping and handling).
11"x15" Custom Poster: $75.
Take advantage of our Buy 2 Custom Prints, Get 1 Free special! Simply purchase any two prints in our shop, and let us know in a note which print you'd like as your third.
Let us know if you have any questions. Thanks for visiting our shop!
Fastest Delivery:
Tuesday, Sep 21
Fastest Delivery:
Tuesday, Sep 21
Reasons our customers love our products
Museum Quality
State of the art technology for printing.
Choice poly-cotton canvas.
Lifetime UV protection to stay vibrant.
Solid wood backing.
Lifetime Warranty
Our canvases are built to last.
Should there be any defects in
materials or workmanship,
contact us and we will replace
your canvas.
A Gift For Anyone
There is always that special song that
takes you back to a sea of memories.
Relive your memories and let us create
a personalized canvas just for you.
Customer Reviews
Write a Review
Ask a Question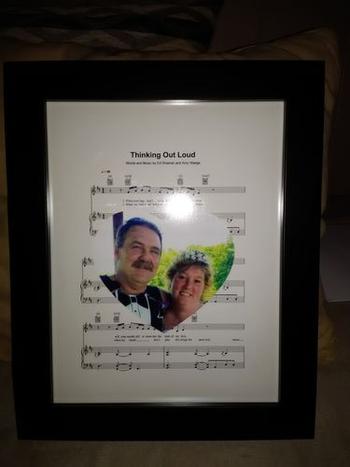 12/10/2019
I love the way this turned out. It's a Christmas present for my mom and her husband. The paper it was printed on was high quality. I received it within 5-7 days after they sent me a confirmation of what my picture would look like. Very pleased with it.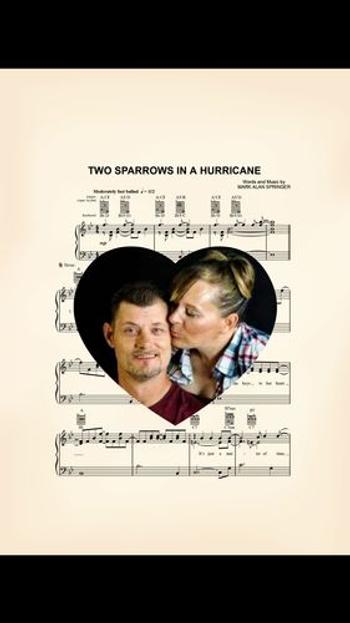 12/09/2019
I love it. Only thing was curious about is whether it was how the sheet music was written to begin with that you don't see much of the lyrics visible.
08/07/2021
Great Work
The picture was great. The service was excellent. It took less time than expected to receive my product.
Bruce J.

United States
11/13/2020
A few errors/misunderstanding. All in all, liked the experience. The staff were quick to respond to concerns and to ship my product quickly. I would recommend.
09/08/2020
The product is great and really creative and personal. However the package took over a month and a half to arrive, I had to email to confirm what was going on. It arrived without a frame because the destination country didn't have a supplier. I had to email again to ask why there wasn't a frame, only then did I receive a refund for the frame. Presumably I wouldnt have received a refund for the frame if I didn't ask about it. Slightly disappointed with the process, happy with the product.